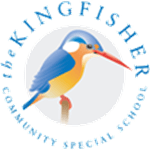 Who are we
The Kingfisher Community Special School is Oldham's provision for primary aged children with severe and complex learning needs. Kingfisher is nationally recognised as a leading edge outstanding school, and has many accolades in recognition of this. The school has received two outstanding Ofsted reports (July 2010 and July 2007), is a National Support School and more recently has become one of the very first National Teaching Schools. Excellence is at the heart of all of Kingfisher's work, ensuring that the children receive the very best possible learning opportunities and make at least good progress. As such, the school strives to ensure that this happens through robust yet creative and innovative practice. The school has a Borough-wide catchment area, and has recently been further developed and extended to enable it to provide for an increasing population of children with unique needs.
Cultural Education Challenge Commitment
Our school is taking on the Cultural Education Challenge. This means that our learning journey takes us to places where we can create, compose, perform, visit, experience, participate, know, understand and review great art and culture. Along the way, we meet inspiring artists and cultural experts that help us explore our own and others' inventiveness. Together we inspire each other to be creative, courageous and curious.
Cultural Education Challenge Stickers