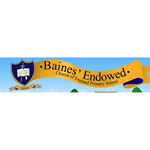 Who are we
At Baines, we recognise that every child is unique and we will do everything we can to make sure your child gets the education that is best for them. We work hard to create a lively, stimulating and purposeful learning environment - we want your children to develop a love for learning and enjoy their school years. We also endeavour to provide the education that will best prepare them for their future not only in terms of the knowledge and skills they need, but also in helping them to be thoughtful, caring individuals who can both work and learn independently.
Cultural Education Challenge Commitment
Our school is taking on the Cultural Education Challenge. This means that our learning journey takes us to places where we can create, compose, perform, visit, experience, participate, know, understand and review great art and culture. Along the way, we meet inspiring artists and cultural experts that help us explore our own and others' inventiveness. Together we inspire each other to be creative, courageous and curious.
Cultural Education Challenge Stickers

Working Towards Artsmark

Arts Award Centre