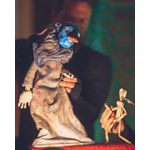 Accreditations

Arts Award Supporter
We're ready for 2024!
Posted: 11/09/2023
Visiting schools is one of our favourite things to do. The enthusiasm and talents of your pupils never ceases to amaze us and put a big smile on our face. We know we are seeing the stars of the future.
At Goofus we use a unique blend of puppetry, mask, clowning & music to create our magical performances. To make performances accessible we often use non-verbal storytelling and makaton. Performances can be booked on their own or we can combine a taster puppetry workshop too. Or, just book our workshop. This is what one teacher had to say...
'It was captivating to see the children achieving and getting so engrossed in the characters they had created. It is moments like that, that remind why I love this job and also that sometimes it is better when the children have more of a free reign to create and not be afraid of them having a very simple brief because they are full of their own ideas! The final performance as just beautiful.'
We always leave time for a Q & A too, so pupils can pick the brains of our performers & director who has over 30 years acting, directing & writing for film, TV, radio & theatre. We love to inspire the next generation of creative people.
Check out what we have on offer under 'Events & Offers'.
Our special show for the festive season is Carried by the Wind. A beautiful non-verbal performances following a feather as it is carried by the wind. Get in touch for more details.
For more information about what we do, or to book, please contact Jane our Producer on janegoofus@mail.uk or ring on 07488 949009.
See you soon.
The Goofus Crew