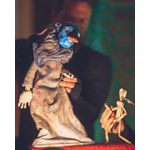 Accreditations

Arts Award Supporter
Moonsmile
Posted: 08/02/2023
Towards the end of 2022 we proudly presented our new performance Moonsmile to around 600 pupils age 5-16. With workshops, theatre reviewer sessions and career Q & A we had a great time! Touring into schools was brilliant. Turning halls into a theatre space and watching young faces light up during the performance - magical. Creating a space for imagination to thrive.
Moonsmile is a 40 minute non-verbal performance. Our story starts with a lonely museum Caretaker, who loses something quite dear to him. In his quest to retrieve what was lost, he finds himself on the moon where he meets the strange but loveable Moonlings. Through a ritual of trust and friendship, the Moonlings help the Caretaker restore what was lost to him. Taking this gift back to Earth, the Caretaker rediscovers all that was hidden.
We always add a Q & A to any performances giving pupils the chance to find out more about the story, puppetry and performing.
It's real treat for the whole school to enjoy. We recommend a maximum of 80-100 pupils per performance and we can perform twice in a day. We can also include an evening show for families to enjoy together. All we need is your school hall! For more information email our producer at janegoofus@mail.uk
Dates available in May 2023.