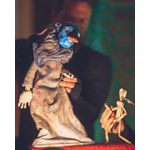 Accreditations

Arts Award Supporter
Goofus on Tour and in your School
Posted: 09/04/2022
Goofus are back on tour visiting schools, museums and community venues across the North West. Will you meet Lily or Ikura, or both!
Lily has stopped speaking, she finds the world too noisy and too busy. One day she meets an amazing friend who needs her help. Can Lily find her courage and find her voice?
Ikura needs help. The forest is flooded, the animals are disappearing and time is running out. Can he stop the devastation and save his home?
Our fantastical tales are told through the ancient art form of puppetry. Alongside original music, soundtracks and mask. There is always an opportunity at the end of the performances to meet the puppets and the actors too!
We can perform to the whole school over one day. Over two days we can also add our Creating Story workshops to your experience. In our workshops, Goofus Artistic Director, Paul Barnhill brings his vast experiences as an actor, writer and puppeteer into your classroom. Using puppets, objects, mask, music and text to find the stories that are in all of us.
Our performances and workshops support Arts Awards, literacy, drama, music, art & design and SEL in school.
Want to find out more? Please get in touch with our Producer, Jane on janegoofus@mail.uk or 074988 949009.
We will see you all soon!
"Go go Goofus! We need live stories more than ever. Stories told with charm, wit and genuine engagement...Goofus have all three! Go Goofus!"
Mike Shepherd (Formerly Artistic director and founder of Kneehigh).