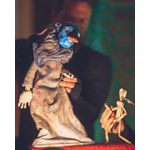 Accreditations

Arts Award Supporter
2 great school performances!
Posted: 26/04/2022
In April we enjoyed two fantastic days performing Lily & the Heron and Ikura and the Mud Giant to over 300 school children.
We supported Earth Day at St John's Primary School in Leigh as the whole school watched both of our performances across the whole day. Headteacher Emma Lightfoot, described the performances as, 'inspirational' and a 'wonderful way to celebrate Earth Day'.
At Boughton Heath Academy in Chester, Headteacher Jon Lenton said, 'The staff and pupils had a great day thanks to Goofus, they were so inspired by and engaged in what they saw! Many thanks to the team for coming and giving us such a fantastic experience. We can't wait to welcome you back!
In addition to performing in schools we added a further 1500 people to our audiences across museums and through our work with the Children's Adventure Farm Trust in Cheshire.
We can't wait to be back out touring from June. Please get in touch with Jane to book a performance or workshop day - janegoofus@mail.uk.
See you all soon!