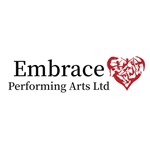 Accessibility
We come to you

Signing Available
Embracing 750 Years of Congleton!
Posted: 01/10/2021
https://www.spacehive.com/embracing-750-years-of-congleton
We at Embrace Performing Arts have created a Community Dance Project to celebrate the 750th Anniversary of our beloved town! Children in and around Congleton will have the opportunity to take part in 10 Dance Lessons within a series of dance workshops! Every school in Congleton will be offered the chance to receive 10 fully funded sessions, in the form of a lesson or an extra-curricular session! These workshops will be based on the historical context of the town, to link with the theme of Congleton's 750th Anniversary and to educate children further, finishing with a huge Final Performance at a site-specific environment in Congleton!
BUT WE NEED YOUR HELP!
In order for this event to even be noticed and receive the funding it requires, we need to prove that our community believe in the project and show their interest! If you could pledge as little as £1 to our project, we can make it happen! Of course, if you cannot pledge to the project, you can still show your support by going to the link provided and clicking "Like This Project", for FREE! There are plenty of other ways you can show your support for the project that can be viewed below! https://www.spacehive.com/embracing-750-years-of-congleton
Not only are we finally coming together after the pandemic, but this offers children the opportunity to make new friends in the area, celebrate their town, learn about their town's history, encourage engagement and participation in the arts and keep Congleton on the map in terms of Arts events! Join us in bringing the community together to celebrate our beautiful town!
https://www.spacehive.com/embracing-750-years-of-congleton
#events #community #school #education #Congleton #whatsoncongleton #congletons750thanniversary #crowdfund #crowdfunding #crowdfundingproject #crowdfundingcampaign #congletonmums #cheshire #cheshireeast #likeforlike #share #shareyourstory #dance #performingarts #dancelessons #celebration #celebration2022 #spacehive #like #comment #pledge #Macclesfield #Sandbach #Alsager #Biddulph #Kidsgrove #funding #students #opportunity #engagement #help #art #creativity #youth #event #environment