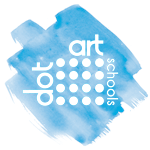 Accreditations

Arts Award Supporter

Artsmark Partner
Cultural Education Challenge Sticker Provider
Sign up now for dot-art Schools 2020-21!
Posted: 07/10/2020
Join dot-art Schools to celebrate children and young people's creativity, build confidence and boost wellbeing.
Art is the perfect way for students to process their thoughts and feelings when trying to make sense of the pandemic. Participating in dot-art Schools provides a key part of that recovery process.
The positive impact of our programme on students' mental health and well-being has been proven. Research carried out by Liverpool Hope University and Curious Minds last year showed that taking part in dot-art Schools nurtures children and young peoples' creativity and boosts their confidence. We learnt that the students gain a measurable sense of self-respect from the process. ​ ​​
Participating in the competition can also raise students' aspirations and engage student's families. We know that the pandemic has increased the disadvantage gap markedly; engaging with dot-art Schools helps build valuable cultural capital in students.
"Cultural education programmes are so important in nurturing new artists that will become the next generation of artists that builds and progresses the country's creative industries. The dot-art Schools competition is a fantastic platform for young people to showcase their work."
Vikki Merriman, Arts Council England
Who is eligible?
The competition is open to all Primary (Year 5) and Secondary (Year 9) and SEND schools in the six boroughs of Liverpool City Region and near neighbours. It is designed to nurture talent, raise aspiration and take art out of the classroom into the real world.
Set up in 2012 in response to demand from local schools and the side-lining of the arts in the curriculum, to date over 8000 children from 481 schools have taken part. 
How to get involved
For a sign up fee of £150 your school receives:
A dedicated portfolio page on the dot-art Schools website, featuring students artwork entries, brief info and a link to your schools website
Promotion via printed publicity & social media
Your school's winner exhibited in a high quality public exhibition
Invitations for shortlisted students, their families and staff to attend prize giving ceremony
A certificate for each shortlisted student and the school
To sign up simply complete the online Sign Up Form before Christmas.