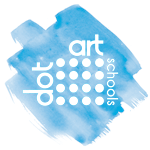 Accreditations

Arts Award Supporter

Artsmark Partner
Cultural Education Challenge Sticker Provider
DOT-ART SCHOOLS HIGHLIGHTS THE KEY ROLE CREATIVITY WILL PLAY IN FUTURE JOBS
Posted: 02/10/2023
Liverpool-based dot-art Schools are working in partnership with Edge Hill University to launch their 12th annual art competition to boost creativity in schools.
dot-art Schools has been inspiring, celebrating and championing creativity since 2012. With creativity now recognised as one of the most vital skills for young people's future employment, the importance of programmes like this continues to grow.
Students who participate in the dot-art Schools competition report increased self-esteem, creative confidence and raised aspirations. For some pupils it can also act as a catalyst to pursue a creative career path. The effect of the competition can be transformational. The first dot-art Schools competition winner in 2013, James Murphy, is now the Director of his own video production company, Event Horizon.
James said: "It's vital to have people who believe in you, to be able to see the worth in what you are doing. Winning dot-art Schools in 2013 was a massive confidence boost, and it's pushed me in the direction I've followed ever since. dot-art have inspired countless children to see the value in being creative. It builds a sense of confidence, not just for the winners either, by taking part you get to see your work in galleries that people only dream of."
James has created a video explaining the impact the programme had on him which can be viewed on the dot-art Schools website.
In the UK Creative Industries are worth £92 billion a year and provide 1 in 11 jobs, despite this there has been a 47% drop in pupils taking arts GCSEs and a 29% drop in creative A levels since 2010.
Carolyn Murray, dot-art Schools Project Manager, said: "Creativity is an increasingly important skill because it can't be replaced by a machine and the arts are the catalyst not just for the creative industries, but for all industry, from engineering to automotive to advertising."
"For the past 11 years, our dot-art Schools programme has been trying to address these issues, by working directly with schools across the Liverpool City Region we have so far engaged over 11,500 children and will have entries from thousands more this year."
Susie Stockton, who took part in dot-art Schools in 2016-17, added: "Participating made me realise at that young age that I wasn't just a kid who enjoyed painting and drawing, I was an artist and was being treated as such. I was introduced to the real artistic world and it was definitely a catalyst for doing my degree in Fine Art at university, as well as understanding that there are spaces out there that give artists opportunities, it is an achievable career."
As the leading project partner, Edge Hill is nationally renowned for high-quality teacher training, and research going back to its foundation in 1885. The University is committed to making a difference by inspiring minds and creating opportunity, values reflected by the dot-art Schools competition.
Dr Helen O'Keeffe, Associate Dean in the Faculty of Education, said: "Our fantastic partnership with dot-art has helped to promote creativity in schools, inspiring young people to continue making art and see themselves as artists. It shows the positive impact art can have on pupils in so many ways. I'd encourage every school in the Liverpool City Region to try the competition and find out for themselves how much the children and teachers enjoy and benefit from the experience."
Carolyn Murray added: "We're delighted to continue our partnership with Edge Hill's Faculty of Education for another year. Their invaluable support helps us reach more schools across the Liverpool City Region."
dot-art Schools have announced a new partnership with Liverpool ONE that will see the winning artwork proudly displayed outdoors on College Lane this autumn and every year going forward.
To find out more and sign your school up for the competition, email schools@dot-art.com, call 0345 0176660 or visit schools.dot-art.com.
To discover more about courses at Edge Hill, please visit ehu.ac.uk/study.