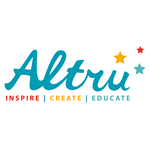 Accreditations

Arts Award Supporter

Artsmark Partner

SLiCE Cultural Partner
Anti-Bullying Performances are BACK!
Posted: 24/09/2021
This November, Anti-Bullying performances are available for schools!
We're offering You, Me and Us - a 45 minute performance with a free workshop and resource pack.
The performance can be watched by everyone from Reception - Year 6 in your school hall. We then follow the performance with a Q&A to develop understanding, and offer a free workshop for one class as well as a resource pack full of ideas to try back in class.
The play - 'You, Me and Us' - explores difference, respect and the importance of being kind. Charlie Cooper is fed up of being different and, one fateful night, wishes that everything could just be the same. But the next morning, the whole world has shifted, and Charlie must go on a journey of discovery to find out why being different is actually very important.
"The performance was great! It was really educational, and the kids felt that it was really funny. The workshop was a great way to learn new things and got pupils working together well. We have had Altru in school before and it has always been a great experience." St Mary & St Paul's Primary, Knowsley
Presented by professional actor educators who are all DBS checked.
For more information, availability and costs please contact Dan Costello, General Manager: dan@altru.co.uk / 0151 443 0333.